89th Annual Meeting of the
Southeastern Section of the American Physical Society
Check-in and On-site Registration Starting at 3:00 PM in the Hotel Lobby!
---
NOVEMBER 3–5, 2022
The Inn at Ole Miss   |   University of Mississippi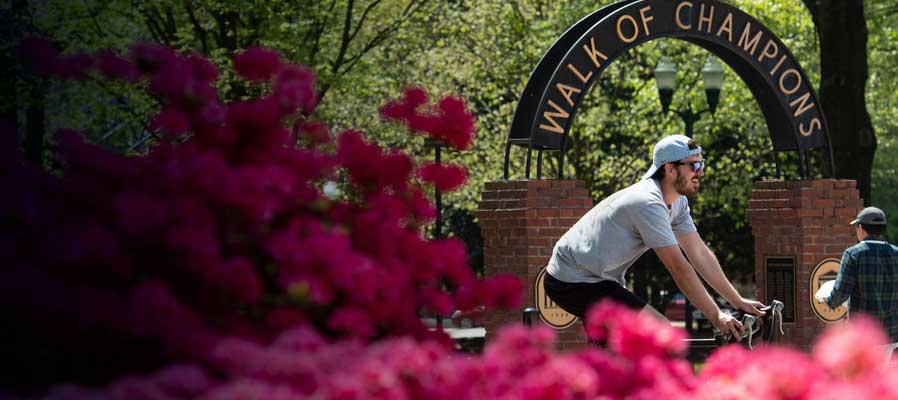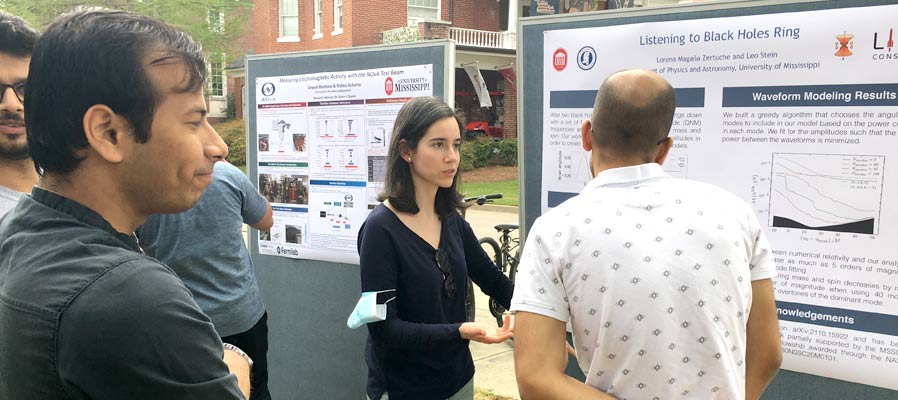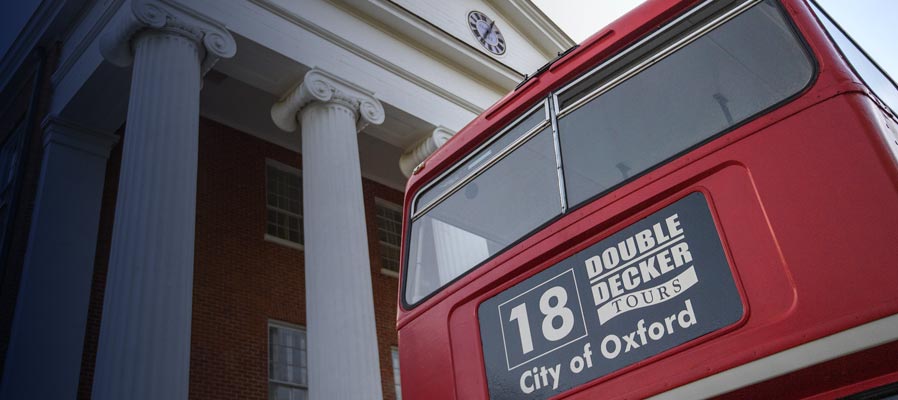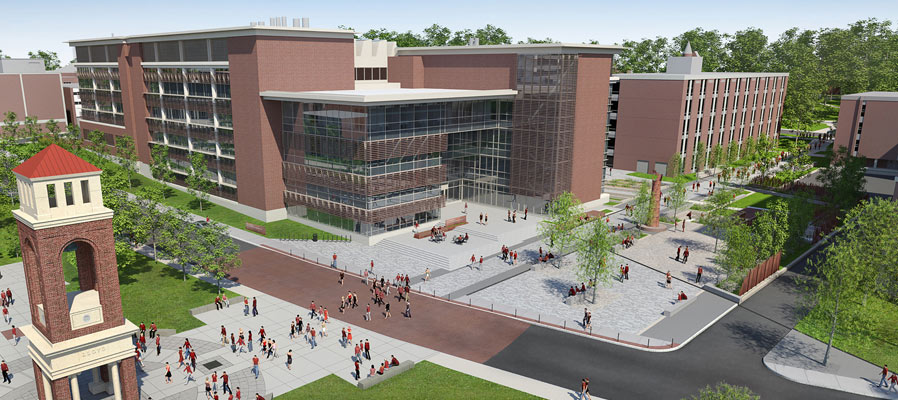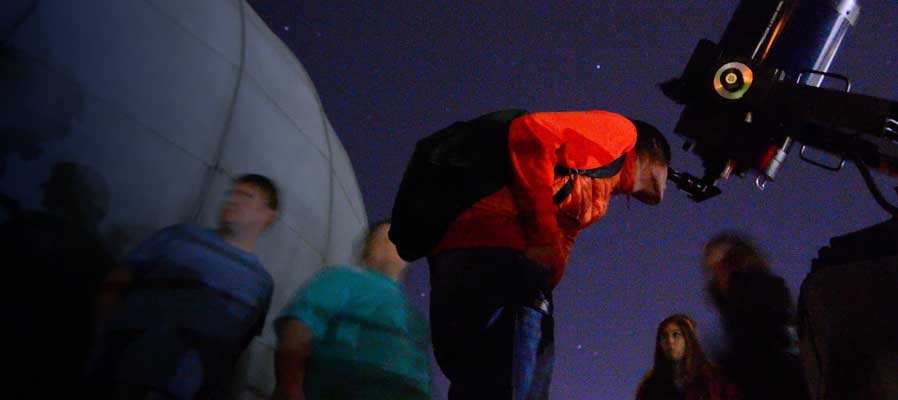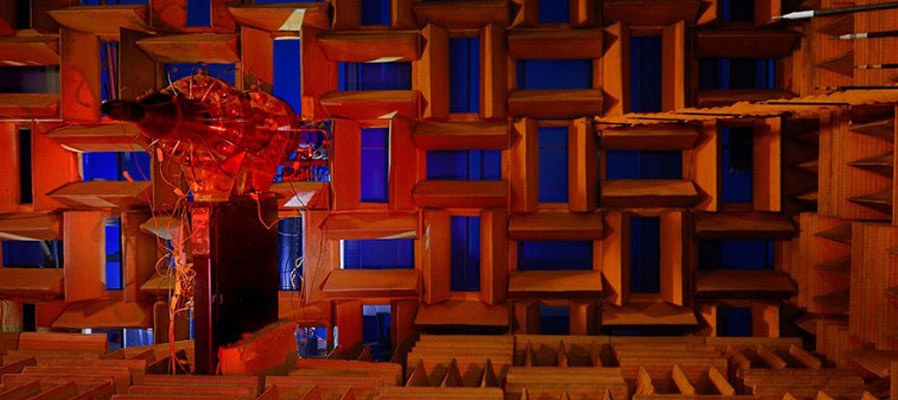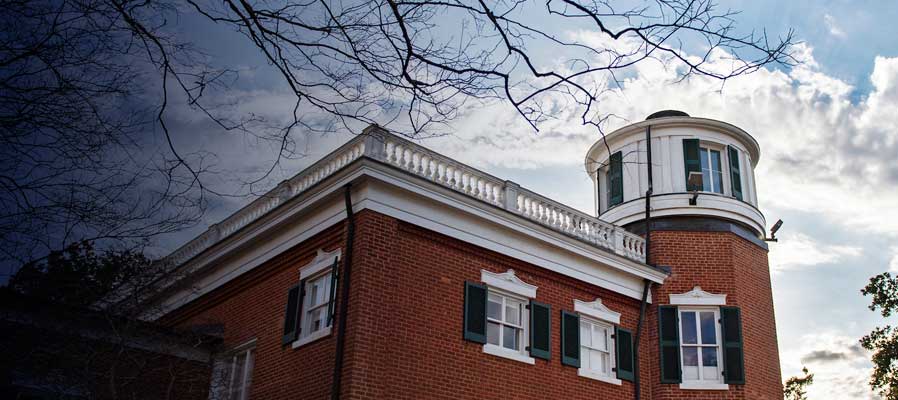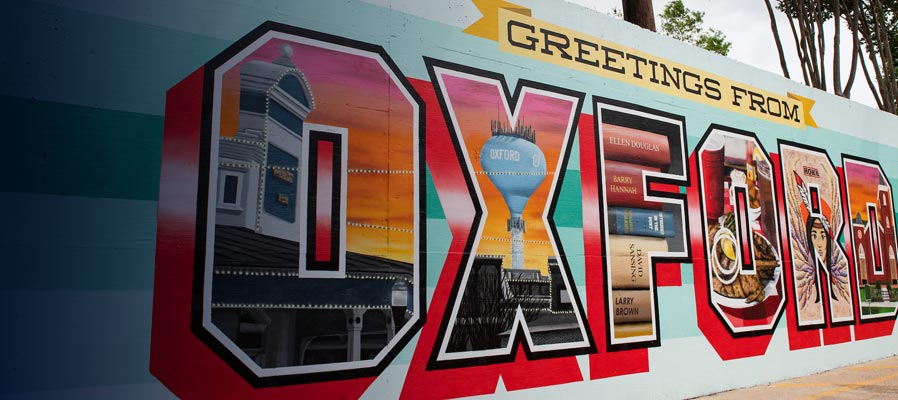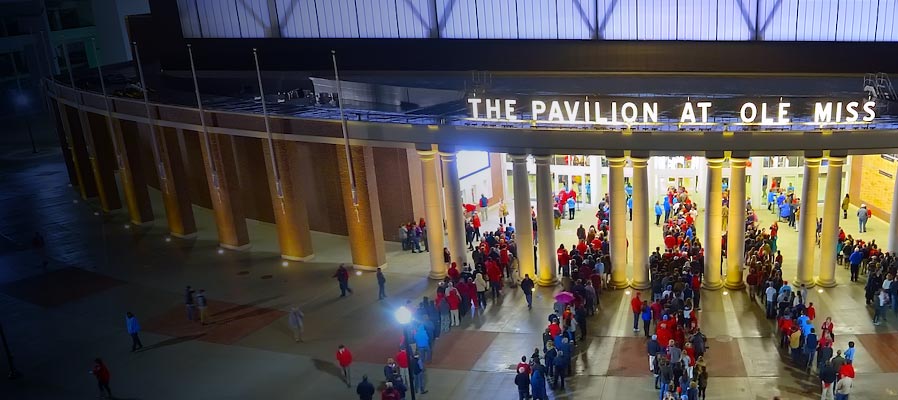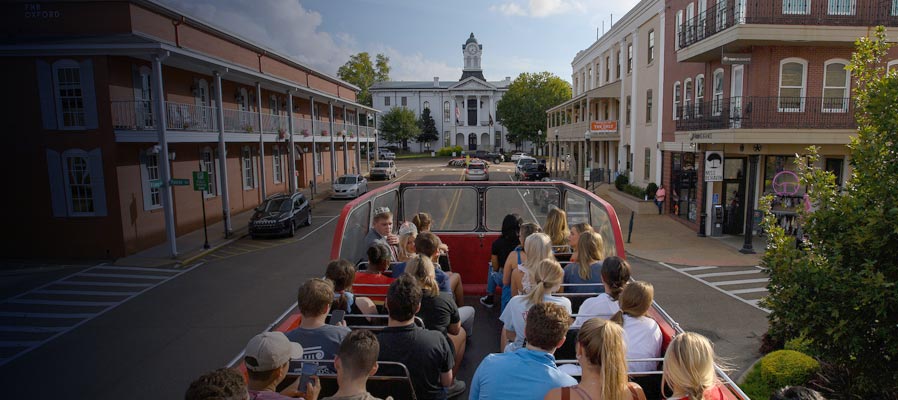 We are pleased to invite you to the 89th Annual Meeting of the Southeastern Section of the American Physical Society (SESAPS). SESAPS 2022 will be held November 3-5, 2022 at The Inn at Ole Miss on the University of Mississippi campus. Established in 1937, SESAPS exists for the advancement and diffusion of knowledge of physics within the southeastern region of the United States, including the states of Alabama, Florida, Georgia, Kentucky, Louisiana, Mississippi, North Carolina, South Carolina, Tennessee, and Virginia; the Commonwealth of Puerto Rico; and the US Virgin Islands. We especially encourage undergraduate and graduate students to attend and submit abstracts for oral and/or poster presentations. Limited travel support is available for students. We will also have numerous exciting special sessions, including a session to promote discussion on diversity issues in physics.
SESAPS 2022 will include sessions covering a broad range of current topics in physics research, a student poster session, a graduate program fair, and the presentation of the annual SESAPS awards in teaching (Pegram), research (Beams), and service (Slack). Undergraduate students will have the chance to compete for prizes for best oral and poster presentations. The meeting banquet will feature a keynote address aimed towards a general audience.
Please reach out to the SESAPS 2022 local organizing committee at sesaps22@phy.olemiss.edu if you have any questions about the meeting.
---
Important Dates:
Abstract Submission open: August 1, 2022
Abstract Submission deadline: September 30, 2022—extended to October 7, 2022!
Expiration Date for Conference Hotel Rate: October 3, 2022
Student Travel Support Form Application deadline: October 7, 2022
Online Registration Deadline: October 28, 2022
---
APS Code of Conduct
Code of Conduct for APS Meetings
It is the policy of the American Physical Society (APS) that all participants, including attendees, vendors, APS staff, volunteers, and all other stakeholders at APS meetings will conduct themselves in a professional manner that is welcoming to all participants and free from any form of discrimination, harassment, or retaliation. Participants will treat each other with respect and consideration to create a collegial, inclusive, and professional environment at APS Meetings. Creating a supportive environment to enable scientific discourse at APS meetings is the responsibility of all participants.
Participants will avoid any inappropriate actions or statements based on individual characteristics such as age, race, ethnicity, sexual orientation, gender identity, gender expression, marital status, nationality, political affiliation, ability status, educational background, or any other characteristic protected by law. Disruptive or harassing behavior of any kind will not be tolerated. Harassment includes but is not limited to inappropriate or intimidating behavior and language, unwelcome jokes or comments, unwanted touching or attention, offensive images, photography without permission, and stalking.
Violations of this code of conduct policy should be reported to meeting organizers, APS staff, or the APS Director of Meetings. Sanctions may range from verbal warning, to ejection from the meeting without refund, to notifying appropriate authorities. Retaliation for complaints of inappropriate conduct will not be tolerated. If a participant observes inappropriate comments or actions and personal intervention seems appropriate and safe, they should be considerate of all parties before intervening.
---
Program
The spreadsheet schedule linked to above will be replaced with the fully detailed and searchable APS Epitome meeting schedule site shortly.
SESAPS 2022 will feature sessions Thursday through Saturday covering a broad range of physics topics including:

Acoustics
Applied Physics
Atmospheric Sciences
Atomic, Molecular, and Optical Physics
Biophysics and Medical Physics
Condensed Matter Physics/Nanoscience
Cosmology, Astrophysics, and Gravitation
Diversity in Physics
Fundamental Symmetries
Instrumentation
Nuclear Physics
Particle Physics
Physics Education and Outreach
Quantum Information and Computing
Statistical and Nonlinear Physics
Special Events
National Mentoring Community Meetup
Thursday opening session
Introduction to NMC
Thursday morning coffee break
NMC Information Table
Friday lunch
Open Lunchtime Mentoring Workshop
Thursday Evening, November 3
Poster Session
6:00–7:30 p.m.
Dinner
7:00–8:30 p.m.
SPS Social

8:30–10:30 p.m.
Friday Afternoon/Evening, November 4
Graduate School Fair
Banquet and Awards Ceremony
Keynote Address:
"Pushing the Frontiers of Physics with Black Holes"
Feryal Özel
Chair of School of Physics
Professor of Physics
Georgia Institute of Technology
National Mentoring Community
The mission of the APS National Mentoring Community (NMC) is to address the minoritization and marginalization of people in physics by connecting physics students to mentors, providing personal and professional development to mentors and mentees, and providing resources to mentees. Membership in the NMC is free for both mentors and mentees.
The SESAPS 2022 NMC Meetup event will feature several elements. In Thursday's opening session there will be an Introduction to NMC from Bri Hart, APS Diversity Program Manager, who will provide an overview of the NMC, including program benefits and steps to join. During the Thursday morning coffee break you can stop by the NMC information table to learn more about the NMC and other APS Programs, such as APS Bridge and APS Careers Programs.
Current NMC Mentors and Mentees will attend an invite-only lunch on Thursday at which they can connect and share their experiences in the NMC! And finally, all SESAPS attendees are invited to register for an Open Lunchtime Mentoring Workshop on Friday. In this interactive workshop, Bri Hart will first provide students with strategies for connecting with mentors and making the most of mentoring relationships. After Bri, Craig Group, UVA physics professor and 2022 APS Career Mentoring Fellow, will discuss statistics on physics degrees and jobs, provide information on APS career resources, and give guidance on steps students can take to find their career fit.
---
Grad School Fair
A free Graduate School Fair is scheduled for Friday, November 4, 4:30-6:30 p.m. as part of SESAPS 2022. This is a tremendous opportunity to highlight your graduate program to many of the top physics undergraduate students in the southeast region.
Institutions interested in participating, please contact the local organizing committee at sesaps22@phy.olemiss.edu

---
Registration
Check-in and On-site Registration available from 3:00-9:00 PM on Wednesday in the Hotel Lobby. It will also be available from 7:00-9:00 AM each morning of the meeting.
Here is a meeting information sheet, which you will also receive in your packet at check-in.
Registration Type
Up to October 28, 2022
After October 28, 2022,
On-Site Only

APS Members
Regular
$95
$150
Undergraduate students
$15
$25
Graduate student
$60
$90
Retired/Unemployed
$40
$60
Non-Members
Undergraduate
$60
$90
All others
$150
$225
Vendors
$550
$550
Grad School Fair Table
no cost
no cost
*Registration fees cover all meeting events and all meals Thursday morning through Saturday afternoon.
*Non-members can join APS prior to registration at the following link: https://www.aps.org/membership/join.cfm, and then return to register with Member pricing.
*If you have problems getting the correct pricing during registration, please contact registrar@aps.org for assistance.
*If you are a third-party registering on behalf of someone else, please email the registrar at registrar@aps.org before attempting to register them.
Information for Students
Student Pricing
If you do not see the correct student pricing for online registration, your student account may have incomplete information entered. Please follow these steps before completing your registration:
Delete the items in your cart.
Update/complete your account information at my.aps.org.
Register again at the correct student rate.
If you still have problems getting the correct pricing during registration, please contact registrar@aps.org for assistance.
---
Abstract Submission
Abstract Submission open: August 1, 2022
Abstract Submission deadline: September 30, 2022—extended to October 7, 2022!
Information for Students
Undergraduate Awards
If you are an undergraduate student and wish to be considered for the best talk or best poster award, please indicate that in the Special Instructions section when submitting an abstract.
Contributed presentation (oral/poster):
Note for Nuclear Physics: The abstract portal has two Nuclear Physics submission categories: Low-Energy Nuclear Physics and Medium-Energy Nuclear Physics. If your nuclear physics sub-field does not match either of those, simply choose one, and put a note indicating your sub-field in the Special Instructions box of the submission form.
Poster Presentation Logistics:
The poster session is an opportunity to share your research in a one-on-one format that is very different than that found in an oral presentation session. The poster session at SESAPS 2022 will take place on Thursday, November 3 from 6:00-7:30 PM
Posters should be no larger than 4' x 4'. Mounting pushpins will be provided. You should plan to come to The Pavilion with your poster sometime between 4:00-5:30 PM to find your designated poster location, and mount your poster to the board. Your designated poster board will have your assigned poster number and your name on the board. Posters will be removed by the organizers by Friday 9:30 PM.
Please visit the APS link below for further tips on designing, preparing, and presenting a scientific poster.
---
Venue
SESAPS 2022 will be held at The Inn at Ole Miss on the campus of the University of Mississippi.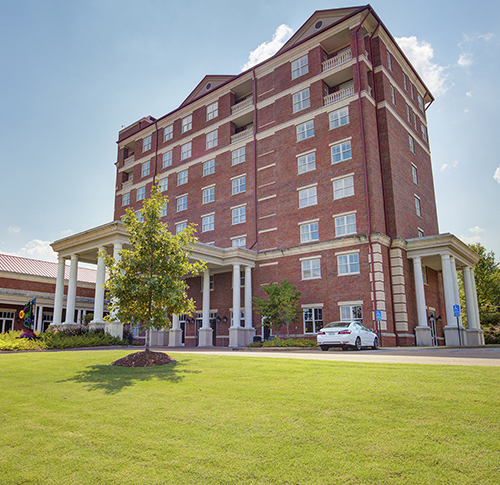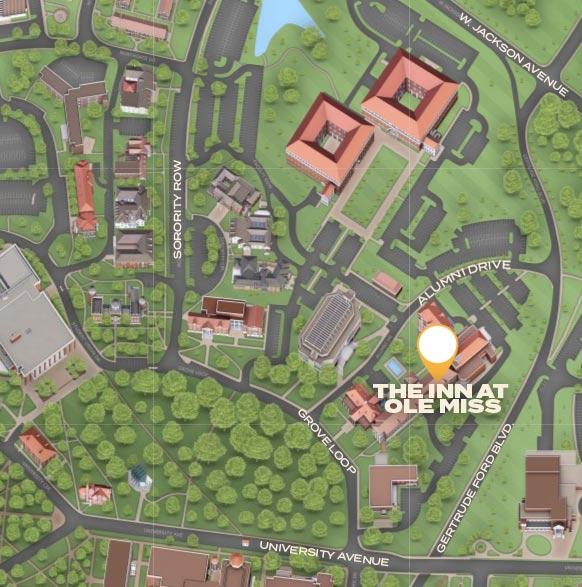 The Inn at Ole Miss
120 Alumni Drive
University, MS 38677-1848
Phone: 1-888-486-7666, 1-662-234-2331
Email: hotel@theinnatolemiss.com
Parking Information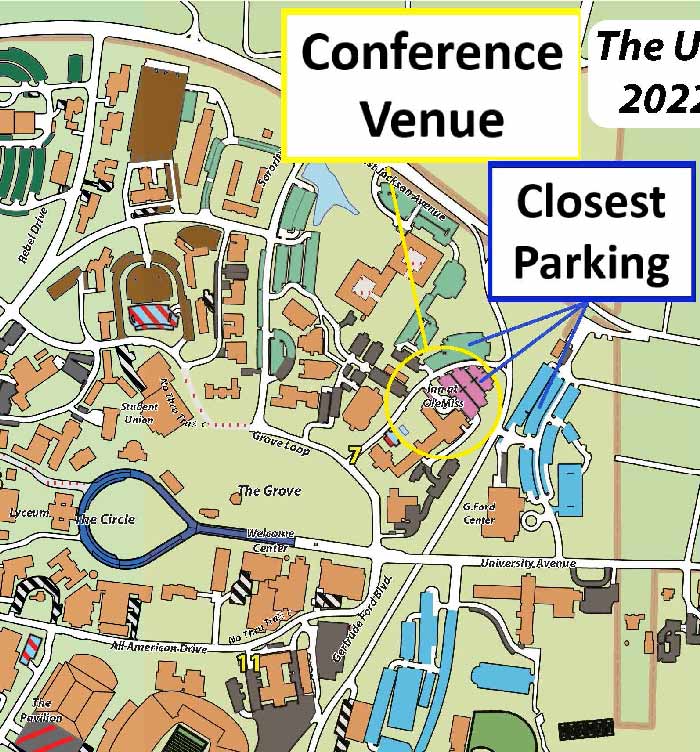 If you are staying at The Inn at Ole Miss, then you will receive a parking pass from The Inn along with your key card when you check in to your room.
If you are staying elsewhere and driving on to campus, then you can request a parking pass from the SESAPS 2022 registration desk when you arrive for check-in.
This visitor parking pass will enable you to park in any legal space on campus including faculty/staff, residential, commuter, etc. as long as it is not reserved by any special signage or a service lot. For parking at the Jackson Avenue Center visitors must park in the spaces between the white lines. The yellow lined spaces are strictly for commercial parking. The visitor permit does not allow you to park in the Pavilion Garage or metered parking. You also are not allowed to park in handicap spaces without a valid ADA credential.
You can download the full campus parking map here.
---
Lodging and Travel
Conference Hotel
The Inn at Ole Miss
120 Alumni Drive
University, MS 38677-1848
Phone: 1-888-486-7666, 1-662-234-2331
Email: hotel@theinnatolemiss.com
Reservations
Hotel website: use group code 1122SESAPS
By calling front desk: mention SESAPS 2022 group
Standard Accommodation: $109.00
Deluxe Accommodation: $119.00
One Bedroom Suites: $149.00
Available reservation dates available between November 2–5, 2022
Conference rates guaranteed only if booked by October 3, 2022
Check-In Time: 3:00 p.m.
Check-Out Time: 11:00 a.m.
Contacts for additional hotel options in Oxford are listed below, along with drive and walking times from the meeting venue. Special SESAPS rates are noted where available.
| Hotel Name | Address | Phone | Miles From Venue | Drive Time (min) | Walk Time (min) | Current Rate (from Hotels.com unless noted) |
| --- | --- | --- | --- | --- | --- | --- |
| Courtyard by Marriott | 305 E Jackson Ave, Oxford, MS | 662-638-6014 | 0.4 | 3 | 9 | $160 |
| The Chancellor's House by Oliver | 425 S Lamar Blvd, Oxford, MS | 662-371-1400 | 0.9 | 4 | 18 | $269 |
| Graduate Oxford | 400 N Lamar Blvd, Oxford, MS | 662-234-3031 | 1.0 | 5 | 21 | $184 |
| La Quinta Inn & Suites by Wyndham Oxford | 1171 Frontage Rd, Oxford, MS | 662-638-8060 | 1.9 | 5 | 35 | $109 ($99 W,Th; $129 F): SESAPS Conference rate |
| Quality Inn & Suites | 1808 Jackson Ave W | 662-234-6000 | 1.9 | 6 | 34 | $91 |
| Home2 Suites by Hilton Oxford | 101 S Lamar Ct, Oxford, MS | 662-238-3400 | 2.2 | 6 | 42 | $126 |
| Hampton Inn Oxford-West | 110 Heritage Dr. Oxford, MS | 662-232-2442 | 2.2 | 7 | 38 | $159 |
| Holiday Inn Express&Suites Oxford, an IHG hotel | 112 Heritage Dr, Oxford, MS | 662-236-2500 | 2.2 | 7 | 41 | $130 |
| Super 8 by Wyndham Oxford | 2201 Jackson Ave W | 662-234-7013 | 2.3 | 7 | 44 | $77 |
| Tru by Hilton Oxford | 97 Ed Perry Blvd, Oxford, MS | 662-380-5888 | 4.0 | 7 | | $127 |
| Hampton Inn Oxford/ Conference Center | 103 Ed Perry Blvd, Oxford, MS | 662-234-5565 | 4.0 | 7 | | $150 |
| Town Place Suites by Marriott Oxford | 105 Ed Perry Blvd, Oxford, MS | 662-238-3522 | 4.1 | 8 | | $140 |
Student Travel Support
Limited support for travel is available to students. To qualify, both the student and the student's research advisor (or local sponsor if appropriate) must be members of SESAPS, and the student must be the first author/presenter in a SESAPS session. Questions can be addressed to: SESAPSTravelGrants@gmail.com.
How to apply:
Fill out the application form and e-mail it to SESAPSTravelGrants@gmail.com.
Ask your research advisor to send an email message to SESAPSTravelGrants@gmail.com certifying that you will present the talk or poster.
Application deadline: October 7, 2021
Travel to Oxford
Oxford is served by the Memphis International Airport, which is approximately one hour by car from the University. Rental cars and ride-sharing services like Uber and Lyft are available from the airport.
A free shuttle will be provided for those who need transport from the airport to the meeting venue Wednesday afternoon/evening, and from the venue to the airport on Saturday afternoon. The space on the shuttle or bus may be limited, so if you are interested in using this service, please fill out the webform linked to below as soon as you can. Space will be allocated on a first-come first-served basis.