Undergraduate Program
Our physics majors acquire a broad understanding of the physical principles of nature, develop critical thinking and quantitative reasoning skills and become creative scientific thinkers.  Our undergraduates participate in physics research with professors in the department and this along with the physics degree opens up paths to a wide variety of careers including employment in technical areas, finance, law and the health professions.  Read about one of our recent graduates below.  Click here to read more about our alumni.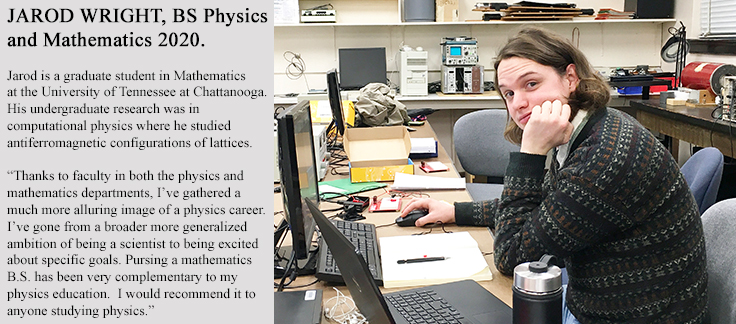 About the Program
A degree in physics provides the foundation for graduate study in experimental or theoretical physics, astronomy, astrophysics and many other sciences such as chemistry, oceanography, seismology, astronomy.  It can also be applied to the health professions such as medicine and dentistry. Our course of study leads to a unique and effective approach to problem solving which many employers value when looking for potential candidates which makes our majors well prepared to enter the workforce in a wide variety of areas upon graduation.  We offer a Bachelor of Science degree as well as a two-track Bachelor of Arts degree.  One track is targeted to pre-medical students and our graduates have exceptional acceptance rates (>95%) at medical schools.  There are about 35 majors in the program on average.  The department is relatively small and intimate, allowing students and faculty to get to know each other and work closely together.
Degrees
Bachelor of Science
Bachelor of Arts
Bachelor of Arts (Premedical Focus)
Physics Minor
Astronomy Minor
Course List
The UM Catalog contains a full list of all our courses.  Courses at the 400-level or lower can be taken by undergraduates with no restrictions as long as prerequisites are in place.  Courses at the 500-level may require instructor approval.  Click here for a list of our courses.
Credit by Examination
A student may be granted credit for some of our introductory physics courses if they have taken certain domestic and international examinations.  The exams and the course credit granted are detailed on the UM Credit by Examination page here.
Awards, Scholarships, and Financial Aid
The department awards several scholarships annually: the Lewis, the Kennon, the Price and the Bolen scholarships.  Our flagship Lewis scholarship can amount to potentially thousands of dollars annually.  More information about our scholarships and other scholarships for STEM majors available through the College of Liberal Arts can be found here.
Activities
Student Services
Contact our Undergraduate Program Coordinator, Dr. Joel Mobley, if you have questions or would like more information about the program.